How to Pick an SD Card Reader
Throughout hunting season, dedicated hunters work really hard to put their trail cameras in the right place to get pictures of that big buck. Getting that valuable intel is crucial for us to be able to know when and where we should hunt. Those pictures are no good if you can not view them, so you need an SD card reader that is going to work reliably. If you do a quick google search, you will quickly see that there are dozens of options. What makes a good card reader? Which one should you get? Let's find out.
Overall Quality
The first thing you want to look at is the perceived overall quality of the card reader. You can expect to pay somewhere around $30 for a good reader. That means that the $10 - $15 readers probably are not the best thing out there.

Even still, some expensive readers are not quality readers. One thing that you can look for to know that an SD card reader is quality and has been tested is an Apple certification. This means that the reader stands up to Apple's very strict guidelines and is quality enough to be labeled Made for Apple. There is only a handful of card readers that have obtained the Apple certification, but a few of them are Deer Brain, Wild Game Innovations, and Bone View.
Product Guarantee
The next thing you want to look for is a product guarantee. Anyone can make a nice sales page and sell a product at the top market price, but are they confident enough to give a money-back guarantee?

The longer the guarantee the better. Normally companies only give a 30 back guarantee which is nice if there is a defect that is immediately noticeable. However, if you are halfway through hunting season and your SD card reader fails, well you are just out of luck.

Deer Brain offers a "Deer Season Challenge" where they challenge any hunter to use their reader for an entire season AND the next season, and if you do not love it they will give you your money back. This is definitely the best product guarantee on the market.
Ease of Use
The next thing you want to look for is the ease of use. You could have the best product in the world, but if it is super hard to use no one is going to want to use it. Many of these card readers come with an app. The app is normally free, so before making that purchase, go ahead and download the app and see how it works.

Some apps make it difficult to sift through your pictures, and others make it difficult (or impossible) to mark pictures that you may want to look at again without having to go through thousands of pictures again. All and all just try to get a feel for how the app works, because that is what you are going to have to go through to see your pictures.
Another thing that falls under this category is phone case compatibility. It is really annoying, but some card readers make their lightning cables just a little bit thicker than the normal charging cable. Then you have to take your whole case off just to use it. So if you want to avoid that, look for a card reader with a normal sized lightning cable like Deer Brain.
Online Reviews
Lastly, make sure you check out multiple kinds of customer reviews. Just reading what other people have to say about a product is invaluable. The company definitely is not going to tell you that their card readers normally fail after three months, but a customer definitely will.

You should also check out more in-depth articles online about these products, or even a YouTube video. One card reader that has excelled in all of the categories we talked about here was the Deer Brain card reader, so here is a review about it on YouTube.
Conclusion
To wrap it all up, a good card reader is going to be a quality card reader that has been tested enough to be given an Apple certification. They should also have an easy to use app that allows you to mark pictures, the more features in the app the better. Lastly, the card reader itself should be easy to use and generally liked by the public. If it only has an average of 2 stars, it is not worth the time.
Written by Patrick Long of Omega Outdoors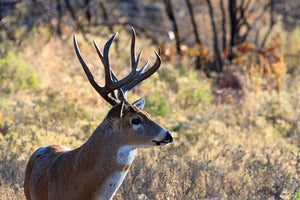 Planning Out of State Whitetail Hunts
I love my home state of Georgia, and every now and then someone will harvest a trophy buck, but to be honest, most of the bucks are not giants. So ...